What Women Are Saying
All-Star Cleanser!
This cleanser is amazing! I didn't know what to expect, but now won't go without it. It's lightweight, fresh and leaves a clean feeling. Recommending this to all my friends!"
– Gina
Simply Amazing
I lead a very active lifestyle and pride myself in keeping my body clean. I have used many different products to clean my intimate areas but none can compare with this balancing cleanser. This is non-irritating and leaves you with a fresh clean feeling. I highly recommend this product!"
– Angie
Game Changer!
The Balancing Cleanser is amazing! The formula is gentle and calming with no signs of irritation. Application is silky and soothing. I love the cleanser so much that I actually use it all over my body. This is truly a game changer!
– Bonnie
From Dr. Beri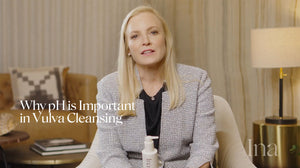 "There is a lot of confusion over whether and how to cleanse "the vagina". First, there is no need to cleanse the vagina—it's self-cleansing. This is the inner tube. Please don't douche! Second, you may cleanse the vulva (the outer genitalia).Whether you're dealing with dryness and irritation or not, it is important to use a gentle cleanser, and not a soap. They are more gentle, they don't strip away the top layer of skin which is important for protection, and tend to be closer to the pH of the vulvar area. Also, stay away from heavily fragranced body washes and those containing dyes or colorants. Our cleanser was designed to be pH appropriate and best of all, you can use it all over your body."
Questions
We've got the answers for you!

Liquid error (layout/theme line 129): Error in tag 'section' - 'popup' is not a valid section type