Our Story
Ina was founded by a gynecologist and leading cosmetic chemist, combining top medical expertise with clean, effective ingredients to create elevated intimate essentials you can trust.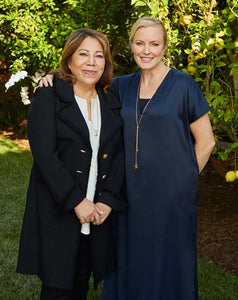 Our Founders
Ina was founded by Susan Goldsberry and Dr. Beri Ridgeway. Susan is a world renowned scientist behind the beauty industry's most iconic skincare brands. Beloved by millions of consumers, her products line the shelves of beauty retailers all over the world. Dr. Beri is a leading gynecologist who specializes in Female Pelvic Medicine and Reconstructive Surgery. She has helped thousands of women navigate everyday concerns surrounding postpartum, perimenopause, and menopause that too often go untreated. Together, they combine to create a unique blend of expertise to create the best products your skin will love.
Our Products
Elevated. Clean. Clinical. Proven.  
We use clean ingredients, luxurious formulations, and beautiful discreet packaging to empower women to indulge in caring for their intimate skin. Because our bodies deserve better — in fact, they deserve the very best.
Why Ina?
(ē • nah)

"While caring for my ailing mother, I realized that most feminine care products were developed without consideration for clean ingredients, efficacy, comfort or user experience. I saw an opportunity to change this. Together with my Co-Founder, Dr. Beri Ridgeway, we created Ina to revolutionize intimate care for women. Ina means Mother in my native language, Filipino, and is my tribute to my mother and for women everywhere."
— Susan Goldsberry
Our bodies deserve better
Liquid error (layout/theme line 129): Error in tag 'section' - 'popup' is not a valid section type